Free Real Estate Classes & Courses You Can Take Today, Online [2021 Edition]
Posted on: Jan 7,
Disclosure: We are not affiliated with any of the education providers listed below. We DO NOT earn any commissions from these links.
Working as a real estate agent can definitely be a very lucrative business -- but before you jump into opening doors for potential buyers, you will first have to look into the real estate education options out there. Fortunately, many of these real estate schools and courses are also available online, so you can earn your real estate license and certification with the flexibility of your own home.
There are generally two levels that you can obtain: an associate's degree or a bachelor's degree in real estate. Most of the training available for real estate agents will come from a community college while getting your broker's license would require more college credits.
Many of these schools and courses will offer you the chance to earn either an associate's or bachelor's degree in as little as one year, depending on how fast you can complete the required credits for your state licensing procedures.
It is also important to mention that it is quite rare to find free online real estate classes that allow you to legally work as a real estate agent or broker -- and this depends largely on every state's legislation. Even so, there are some low-cost and even free online courses you can take, especially when it comes to pre-licensing and continued education in the real estate world. Following, we will take a closer look at the best free real estate classes we have found and analyzed for you:
Table of Contents:
Top 8 Free Online Real Estate Classes
1. Yale: Financial Markets - Real Estate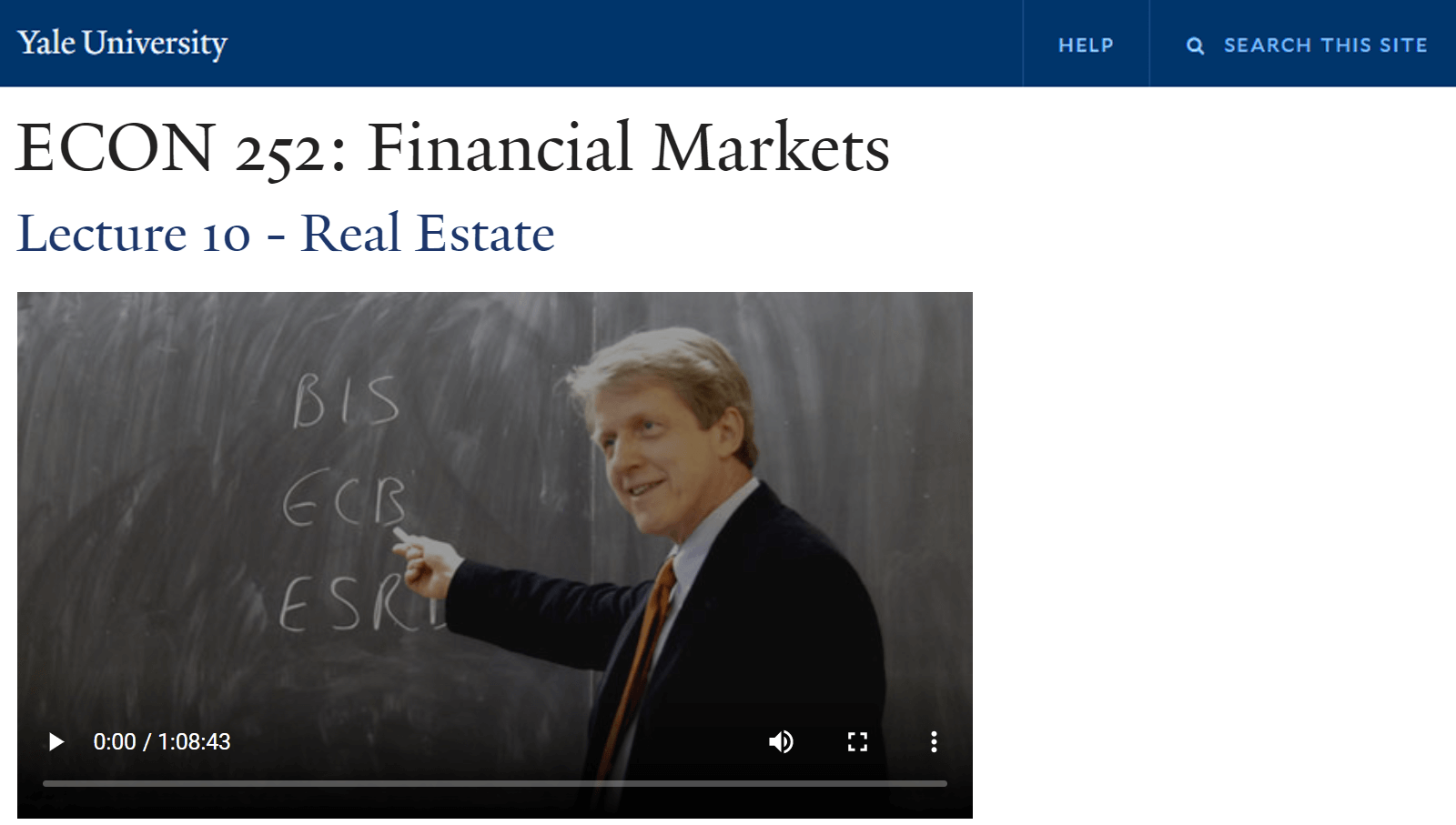 This video lecture by professor Robert Shiller is part of the larger Financial Markets course and focuses on real estate financing and its history. It consists of 6 chapters (Early History of Real Estate Finance, Commercial Real Estate and Partnerships, Residential Financing before the Great Depression, Residential Financing after the Great Depression, Mortgage Securization, and The 2007 Financial Crisis). There's also a multiple-choice quiz with an answer key provided, and a couple of problem sets as downloadable PDF resources.
Price: $0
Rating: 4.82 / 5 ★ ★ ★ ★ ★ (Coursera)
Length: 1 hour and 8 minutes video lecture plus additional resources
Pros: It is provided by Yale as an Open Course, and the professor is Nobel prize laureate Prof. Robert Shiller. One great feature about this course is that the professor not only shares raw information, but also how the psychology of the market has changed over time.
Cons: The course is not approved for credit; however, it is well-reviewed and the past students loved the content presented (particularly because it covers important info about financial securities, financial innovation, and the inner works of how finances really work).
Website: https://oyc.yale.edu/economics/econ-252-11/lecture-10
2. The CE Shop: Save Real Estate Practice in a Pandemic World

It doesn't matter whether you're a real estate agent, broker, or business manager, this course is the perfect choice for those wanting to learn more about protecting your clients and yourself from possible pandemic threats. This course will provide you with some crucial information on pandemic planning and how to use that information when facing certain circumstances in 4 short lessons. There are real estate agent polls throughout the course and a final exam at the end.
3. The CE Shop: Agent Essentials: Staying Safe and Staying in Your Business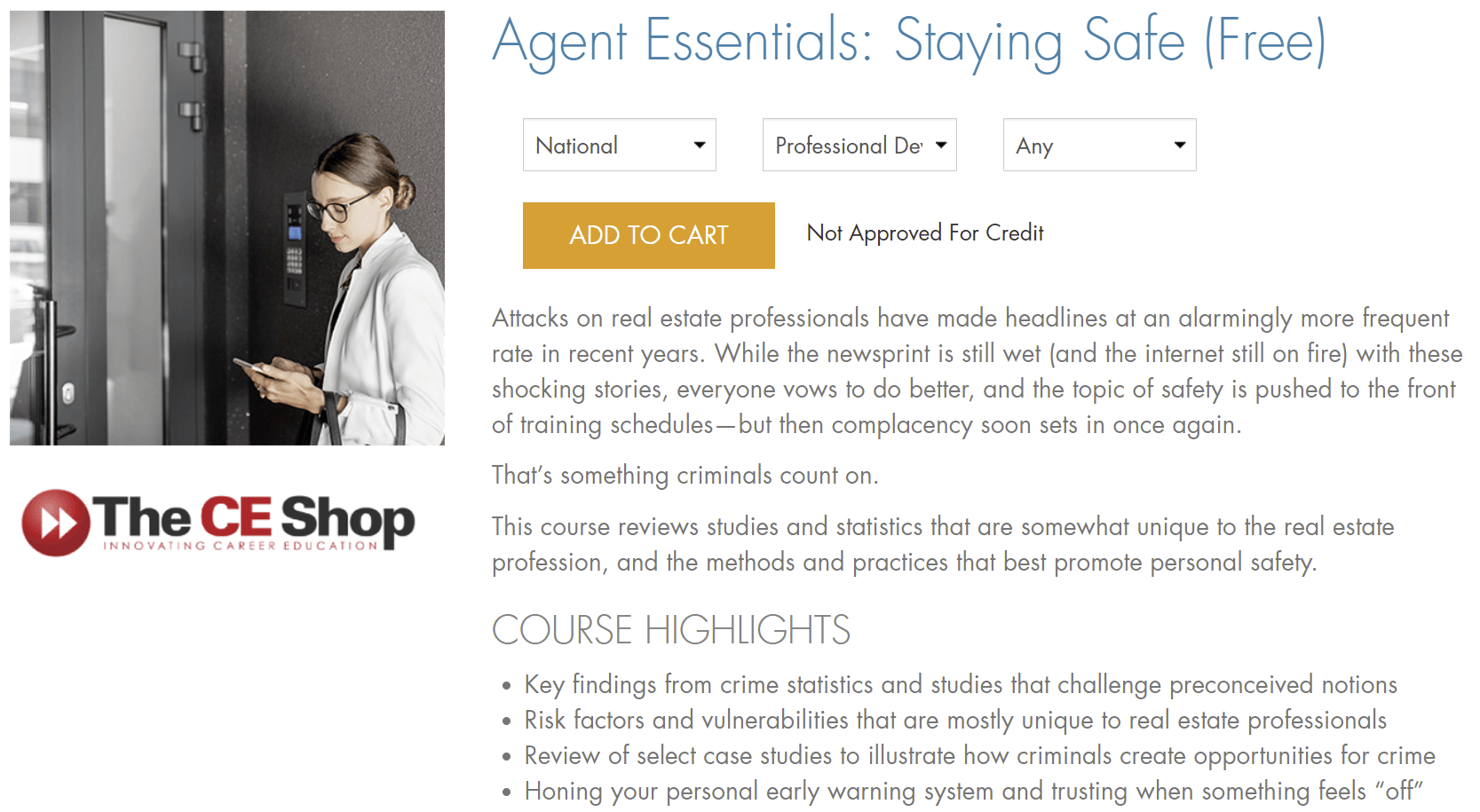 This course will help you to learn more about how to stay safe as a real estate agent (by avoiding personal attacks, risk factors, vulnerabilities, and so on). The course even includes statistics on criminality and knowing how to follow your instincts if something feels "off". This course is divided into 3 units each with multiple lessons and ends with a final exam.
Price: $0
Rating: 4.7 / 5 ★ ★ ★ ★ ★
Length: 1 hour and 40 minutes
Pros: The course includes many activities, examples and statistics. Same as all the CE Shop courses, this course is accredited by ARELLO as a course focusing on continued education. The information inside is very well organized (like in the case of the course mentioned above) and overall, reviewers are excited with what they learned in this course.
Cons: This course is not approved for credit. If you are already certified as a real estate agent, though, this course will prove quite useful in your real estate practice.
Website: https://www.theceshop.com/featured-courses/agent-essentials-staying-safe
4. Udemy: Real Estate Agent - Foundation, Finances and Freedom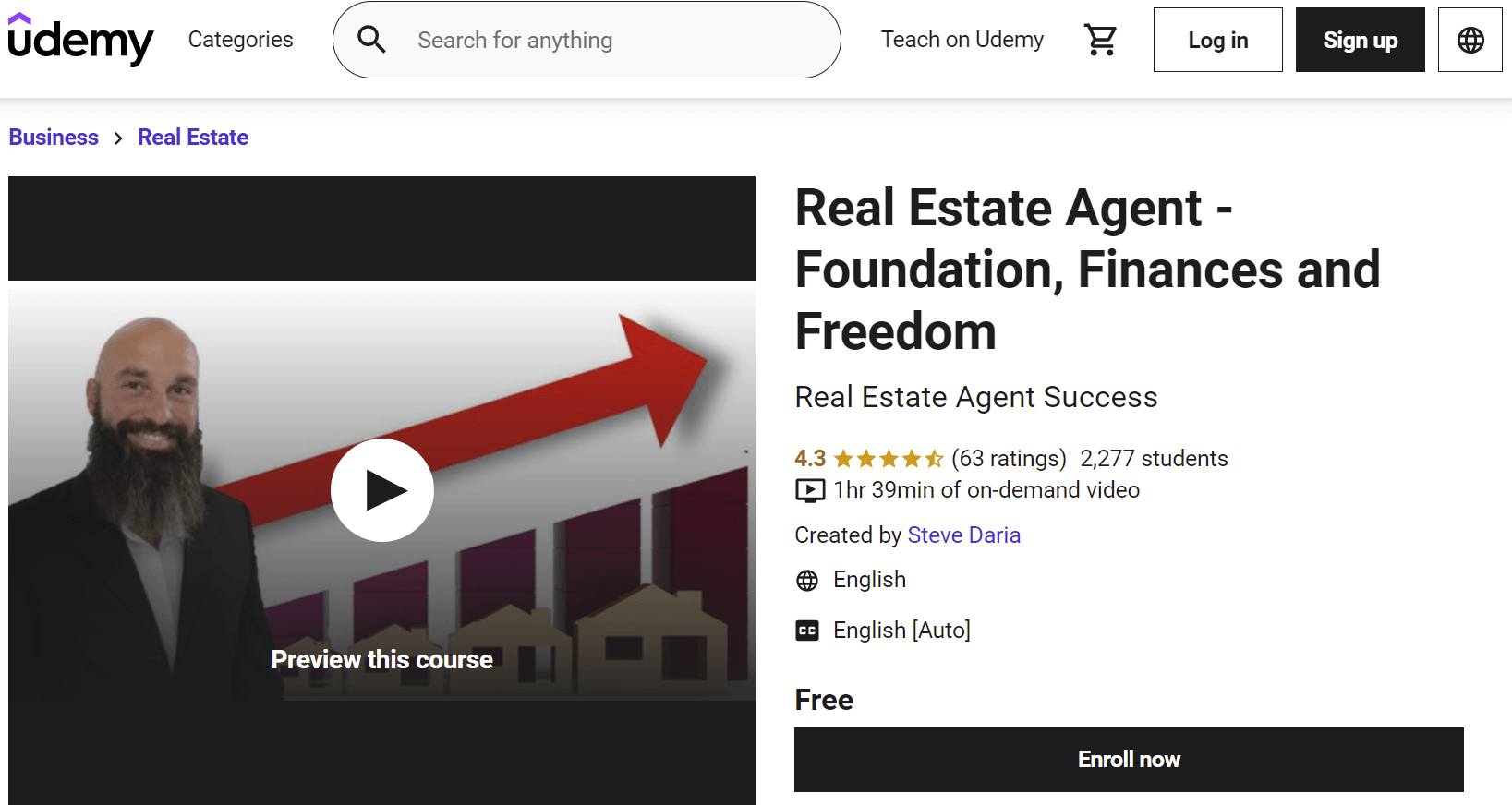 In this course, you will be able to learn the basics of being an agent (such as finding out about licenses and education requirements, etc.) from Steve Daria, a Florida realtor. If you are just starting out in real estate, this will be a very good resource. The course consists of 6 sections with 18 short videos.
Price: $0
Rating: 4.7 / 5 ★ ★ ★ ★ ★ (Udemy)
Length: 1 hour and 39 minutes
Pros: A bit motivational talk. Small and crisp course that helps you make better plans and set better goals for your career as a real estate agent.
Cons: Not approved for credit. No certificate of completion in the free version. The information is also a little on the "basic" side (as the title of the course suggests as well, in the end) -- so if this is not your first rodeo in the world of real estate agents, you might not find the information to be very new).
Website: https://www.udemy.com/course/real-estate-agent-foundation-finances-and-freedom/
5. National Association of Realtors: Official Code of Ethics Online Training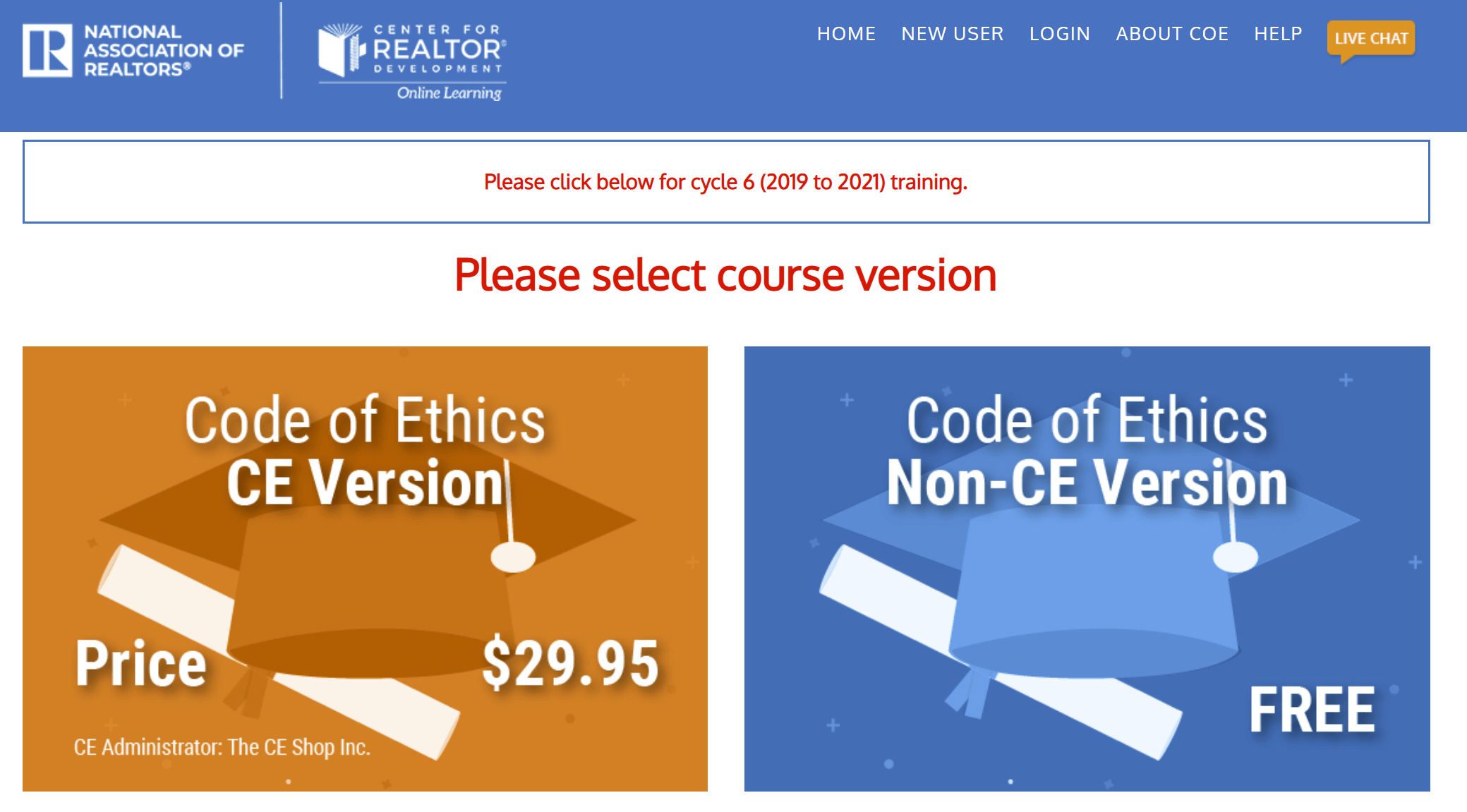 This course was created by the National Association of Realtors and does a really good job of teaching you about the ethical standards that Realtors have to follow in their daily dealings with clients, customers, and the public. There's a paid version that qualifies as a continuing education in many states, but there's also a free non-CE version that any member of NAR can enroll for free.
Price: $0 for the non-CE version
Rating: N/A
Length: 3 hours
Pros: Enhances professionalism and competency and helps you set a ground basis of ethical rules to follow as a real estate agent (all of which will transpire in the way you interact with your clients and how they perceive you as well).
Cons: This course is only available for NAR members.
Website: https://learninglibrary.com/COE/A/
6. University of Virginia: Introduction to Personal Branding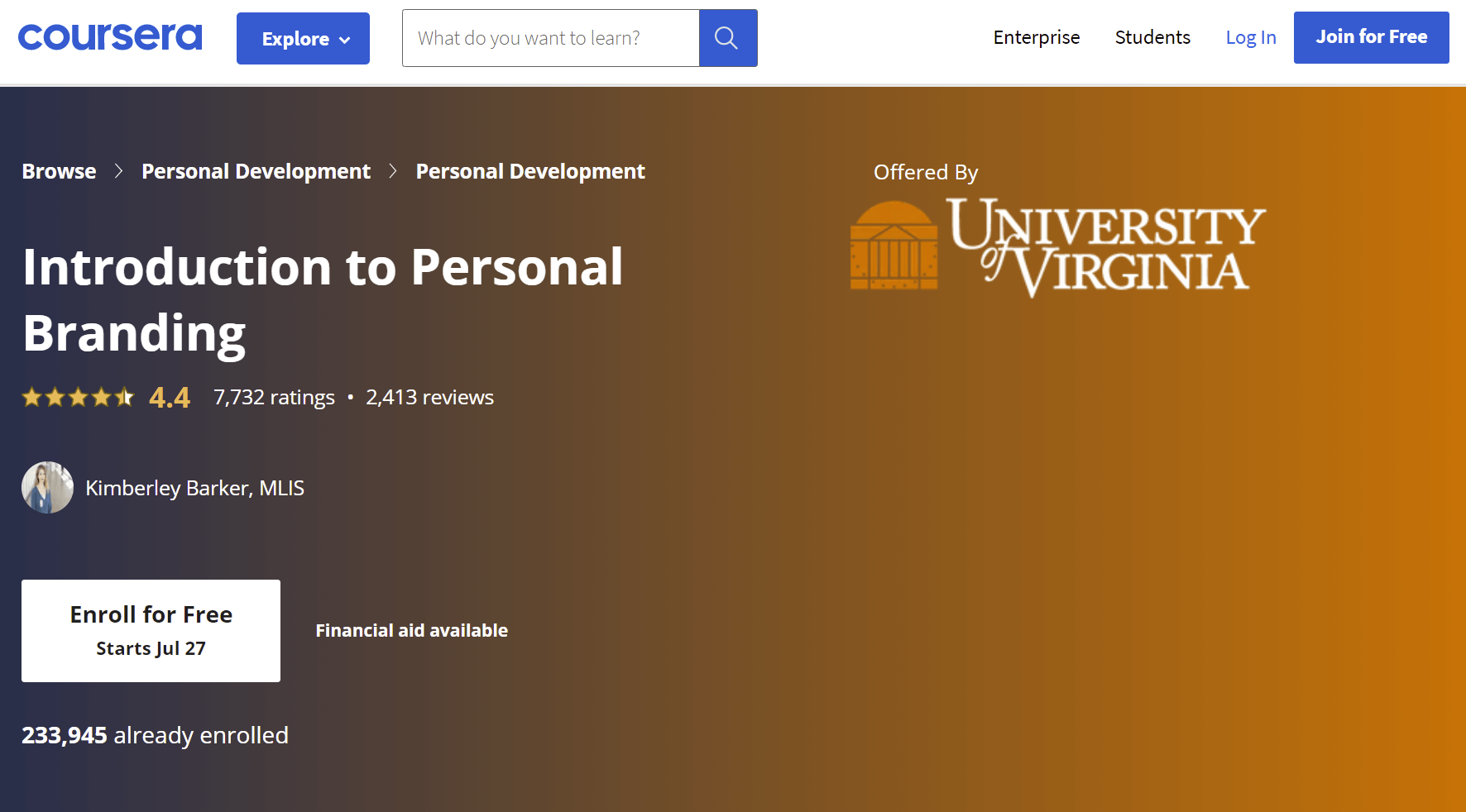 The first step towards building a successful career in real estate is having a great personal brand to offer potential clients, but figuring out the right way to go about it can be tricky. This course is created by Kimberley R. Barker, from the University of Virginia and consists of five classes that include videos, written tutorials and even quizzes. It covers topics such as: purposes and benefits of personal branding, building brand's infrastructure with a mission statement, establishing your brand on at least three social media platforms, brand maintenance, reputation management and digital security. Although this course is originally for university students, a real estate agent can definitely benefit from the information provided in this class.
There is an exam and certificate offered, however only in the paid version ($40 fee).
Price: $0
Rating: 4.4 / 5 ★ ★ ★ ★ (from more than 7,000 students on Coursera)
Length: 6 hours
Pros: Taken by over 230 000 people. The course also has subtitles in many languages, including Spanish. Also, the content is meant to help you build a personal brand based on your specific personality, qualities, and so on -- rather than just give you tips on a "cookie-cutter" personal brand, the course helps you find your way.
Cons: This class doesn't carry university credit. Certification is offered only in the paid version. Furthermore, some students complained that the information is out of date and/ or too basic, but if you are just starting out, it can still be a very good option (especially since it's free).
7. Udemy: Real Estate Marketing Tutorial: Greater Boston Real Estate Agent Training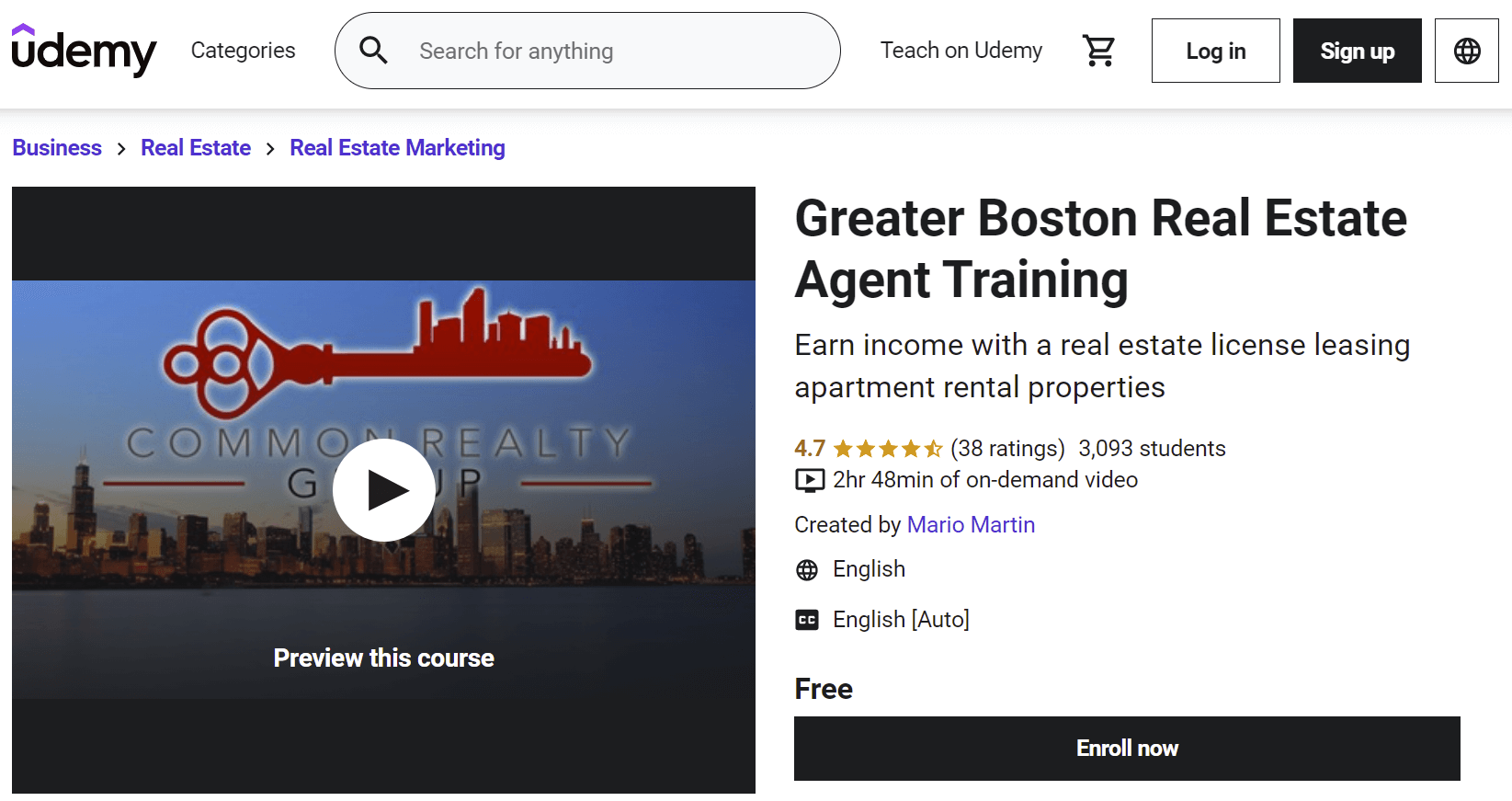 Even though the title of the course suggests otherwise, the information provided is relevant for the entire United States, not just the Greater Boston Area. The course is extremely rich in information useful primarily for rental agents. It describes the basics, such as how to get apartments rented, what tools and websites to use, how to do showings and also covers different paperwork, such as leases and applications.
Price: $0
Rating: 4.7 / 5 ★ ★ ★ ★ ★ (Udemy)
Length: 2 hours and 48 minutes
Pros: This is an extremely well-reviewed course and most of the people who took it attest to the fact that the information helped them gain a deeper understanding of how real estate markets work and how to use this knowledge to their advantage.
Cons: You do need to be a licensed real estate agent or broker as specified in the course requirements.
Website: https://www.udemy.com/course/boston-real-estate-agents/
8. Skyslope: 30 Day Challenge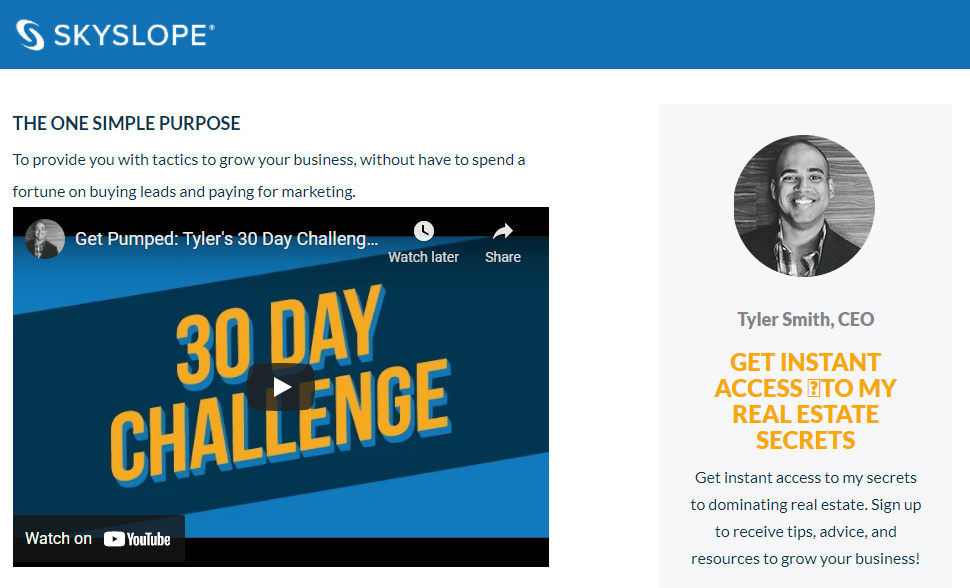 This course by Tyler Smith will help you to learn about generating more real estate leads in 30 days. Tyler Smith is a former realtor with a lot of experience. He has sold more than 300 homes every year and has a lot of experience in generating leads for real estate agents, so his tips are definitely very good. The course is aimed for new agents and agents that are not getting good support at their brokerage about getting new business.
Price: $0 for the non-CE version
Rating: N/A
Length: 30 days, half hour a day
Pros: Helps to take you out of your comfort zone in small every-day steps.
Cons: This course will not provide you with credits, as it is geared at already certified agents (both new ones and agents who have been in the business a while and want to upgrade their game).
Additional Courses and Resources
In addition to the free real estate classes and courses presented above, we would also like to introduce you to some further resources you can use on your way to nailing the real estate business. Below you will find a list of online resources we really loved (and want to share with you):
Realtor.com eBooks and Videos
This is not a course per se, but a collection of valuable educational sources for real estate agents and brokers. There is A LOT of information available on here on pretty much every real estate topic you can imagine. It is, perhaps, one of the largest libraries of this kind.
Website: https://hub.realtor.com/
Constant Contact: Social Media 101
This course will teach you everything you need to know about the world of social media. Although it is not geared at real estate professionals specifically, it has a lot of valuable information that can be applied to your work as a real estate agent. If you know a lot about building a real estate personal brand using social media, you might find this course quite basic (as it is mostly targeted at beginners).
Website: https://blogs.constantcontact.com/social-media-quickstarter/
Udemy: Real Estate Lead Generation 2019
This course will provide you with the necessary tools to help get more clients as a real estate agent, broker, or any other position in real estate. The course is a very comprehensive collection of tips and tricks real estate professionals can use for better lead generation. Students agree that the information in the course is very clean and well-organized and that the instructor (Ben Allistair, a specialist in lead generation and marketing) was very competent and useful.
Website: https://www.udemy.com/course/lead-generation-real-estate-2019-high-quality-realtor
Questions or Suggestions?
Do you have any questions about the resources provided here or becoming a real estate agent in general? Do you think that we missed a valuable resource that could be added to this page? Do not hesitate to contact us at info@zilculator.com and we'll be back with you as soon as possible!
Frequently Asked Questions about Free Online Real Estate Education
How much are real estate classes?
The cost of pre-licensing real estate courses can vary a lot, depending on a list of factors that include your location, what you need to learn and get certified in, and so on. On average, you can expect to pay a minimum of $300 for pre-licensing courses and a maximum of $900.
How long do real estate classes take?
This can depend on a variety of factors, but you can expect them to take between a couple of months and 5 months. Individually, every course can take anything from one hour to several hours spread throughout multiple weeks (depending on where and how you are taking the course).
Where can I take real estate classes?
You can take many (if not all) of the real estate classes online and get certified for them as well. It is also possible to enroll physical college classes.
Can you take real estate classes online?
Yes, absolutely. The ones we have listed in our
article
are just a few of the best
free
real estate online classes, but there are many others (some paid, some free).
Are there any free real estate classes?
Yes. Most of them will not count as CE credits, though. You can see our list of top free real estate classes in this
article
.
How much do online real estate classes cost?
They can cost between $300 and $900, on average, depending on where you are located (and where you want to be certified) and what courses you have to take.
How to get a real estate license for free?
In short, no real estate license comes free and without time and effort, no matter what state you live in. Moreover, even if you do come across free online education opportunities for real estate, the discrepancies from state to state when it comes to licensure requirements differ so much that the barrier to entry for obtaining your license for free is next to impossible.
Starting out on your quest to getting your real estate license can require a substantial initial investment and is often the reason many pass on the opportunity. As such, cost is commonly a significant disadvantage.
However, you can check out our collection of awesome free real estate classes online above, that will not get you licensed, but will improve your skills as a real estate agent.
What are the real estate license requirements?
Before you enroll in a real estate course, you have to inform yourself on what specific requirements your state might have when it comes to real estate certifications. You can easily find this out on the internet simply by Googling "requirements for a real estate certification in...[insert here your state]".
For example, below are the minimum requirements for real estate certifications in Florida, New York, California and New Mexico.
What are the requirements for a real estate license in Florida?
Initial requirements: to be minimum of 18 years of age, to have a high school diploma, and a social security number
Pre-licensing: 63 hours
Minimum Exam Pass Percentage: 75%
What are the requirements for a real estate license in New York?
Initial requirements: to be minimum of 18 years of age and to not have previous felony convictions
Pre-licensing: 75 hours
Minimum Exam Pass Percentage: 70%
What are the requirements for a real estate license in California?
Initial requirements: to be minimum of 18 years of age and to show commitment to trustworthy practicing of real estate
Pre-licensing: 135 hours
Minimum Exam Pass Percentage: 70%
What are the requirements for a real estate license in New Mexico?
Initial requirements: to be minimum of 18 years of age
Pre-licensing: 90 hours
Minimum Exam Pass Percentage: 75%