Annual College Scholarship
At Zilculator we are aware of the hard efforts that students go through the academic year. Also, we know how hard it is for students to find a job for covering their costs (tuition + living expenses) due to major university requirements. Therefore, to help students, we are awarding a $1,000 scholarship to one student to support his/her education.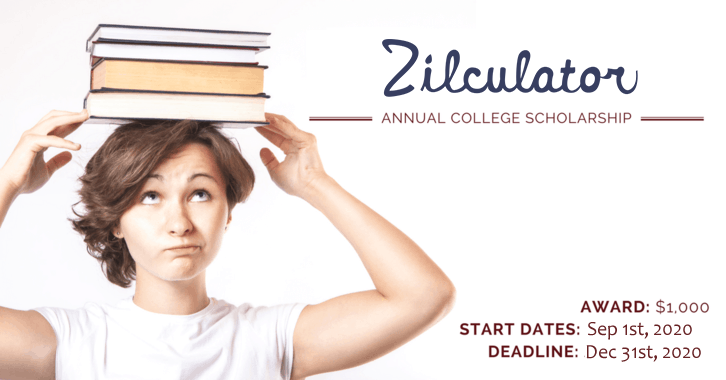 To be eligible for this scholarship, students must submit 2,000 word essay on following topics:
How does house remodeling boost real estate value?
How do home remodeling projects benefit American families?
Submissions will be judged based on creativity and originality, quality of execution, overall aesthetic appeal, and creativity.
Deadline
The deadline is December 31st of each calendar year (recurring scholarship).*
How to enter
Who is eligible?
Full-time students currently accepted to or enrolled at an American two- or four-year college or university with a cumulative GPA of 3.0.
How to apply
Submit the following information at scholarships@zilculator.com latest by December 31, 2020.
Full name, Address, Email
College/university you are attending, the date of acceptance, date of expected graduation
The 2,000 word essay in Microsoft Word or PDF format
How will we announce the winner?
Zilculator will review all submissions and the winner of the scholarship will be selected by by February 1, 2021 and will be contacted via email. Please make sure to provide us with an accurate email address. The scholarship funds will be distributed by February 28, 2021.
How will applications be reviewed?
Our team will manually review each article/application submitted and list the winners on this page after the deadline date.
Privacy Policy for Scholarship
NOTE: Zilculator Privacy Policy for all scholarship applicants ensures that personal information will not be shared and is for our own internal review only. No information collected during this process will be given to 3rd parties and students maintain complete rights over the submitted articles.