Top 5 Property Analysis Software For Real Estate Agents
Realtors are constantly searching for new ways to be productive and hack their workday. For most Realtors, having the right tools can lead to a more productive workday, happier clients, and easier closings.
One essential tool is property analysis software for real estate agents. Having the right software will make it easier to find properties and help clients sell their homes for the right price! We compare the Top  5 Property Analysis Software For Real Estate Agents to help decide on the right tool for you!
#5 Real Data
Real Data is a suite of downloadable software for real estate investors, developers, and more.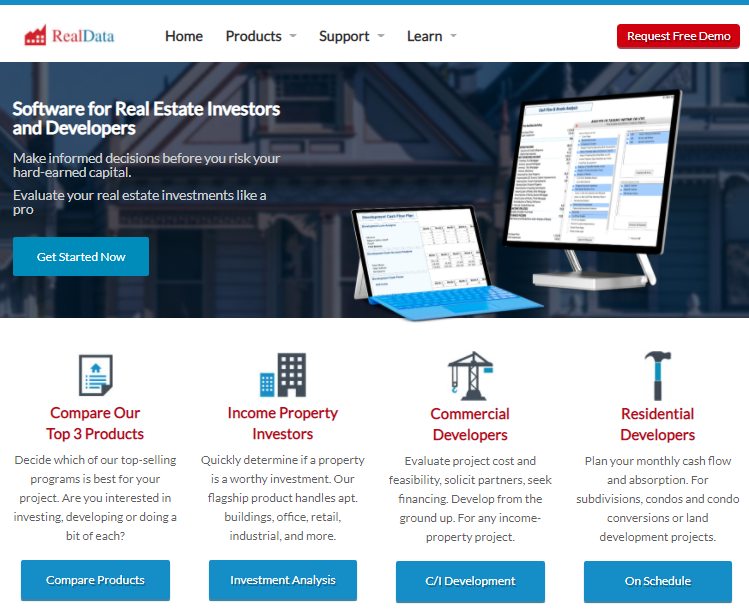 The primary focus of this software is to evaluate potential investments before one invests, but could also be used to review homes for buyers as well. This software would be a great addition for those agents who work closely with investors or developers.
Related: Is It Worth To Get A Real Estate License As An Investor?
Pros Of Real Data
Complete And Guided Investment Analysis: This software solution can determine the cash value of a property, evaluate the feasibility, source financing and plan the cash flow monthly
Residential Or Commercial Investments: Whether determining cash flow or building properties from the ground up this software can make long-term projections. This software is great for those with big projects and big ideas in mind!
Investors and Developer Oriented: Perfect for those with long term investments in mind. As it can help guide the financial and operational condition of your enterprise.
Cons of Real Data
No Mobile Features: Real estate agents are always on the go, and need software they can easily access and use. Currently, they do not offer mobile features or logins.
No Cross Compatibility: Real data is an excel based software and runs on Windows and Mac respectively. While they are optimized to run on each platform well, they do not offer cross-compatibility.
For Investment Properties, Not Realty: Real Data is a great tool for analyzing investments and offers a lot of support for real estate investors. Real estate agents however may not find the information they are looking for selling or buying homes for their clients with this software.
If you work with a lot of investors or are interested in real estate investing, Real Data may be the software for you to start evaluating properties. Some Real estate agents may want to find properties that are better suited for their clients who are looking to sell or buy homes. You can learn more about Real Data here: https://www.realdata.com
#4 Buildium
The software was made with property management in mind. Easily navigate the system to find conditions of properties, in an easy to use platform. Additionally, agents can use this platform to track payments, fees, and commissions.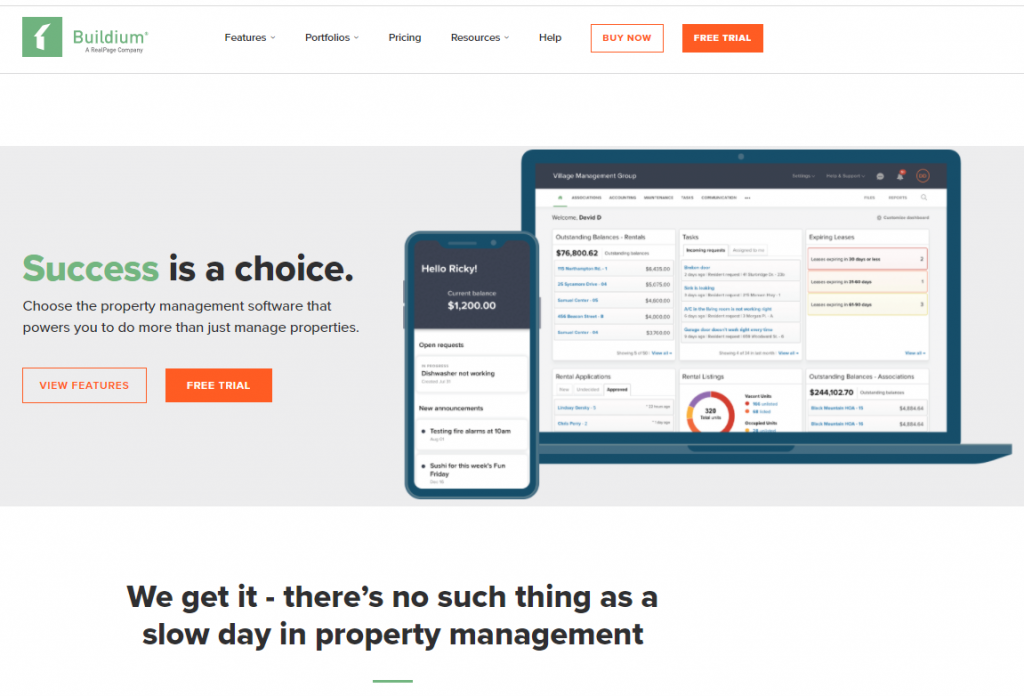 Buildium offers information about asset sales, purchases, and manages most real estate automation. This software would be a great addition to freelance agents or larger teams.
Pros of Buildium
Property Analysis: Buildium can help real estate agents uncover property conditions, and receive additional data about sales and purchases of certain properties.
Transaction management: Built-in accounting tools make it easy to track and record payments, process fees, perform refunds, and record deposits. Handle payments made through various media such as credit cards, bank account deposits as well as checks.
Team Compatibility: Working with additional agents on different properties? You can use Buildium to stay in touch with your company's team of real estate agents. Perfect for staying up to date on different properties and clients.
Cons Of Buildium
More Management Than Analysis: Buildium is a one-stop-shop for property management, and makes it easy to onboard residents and manage your properties. Property management analysis can be slow and clunky.
Lack of Commercial Property Analysis: this software while great for student houses, rentals, and residential properties does not manage or analyze commercial properties at this point. Those agents working with sellers may not find what they need!
Automation: While automation can be a time-saver some automation can send without notifying the sender, and a big problem for some agents.
Buildium is a highly functional, and robust system for property management. Easy to use and share between large teams, it can be great for managing properties and leasing rentals. It is light on property analysis software for real estate agents, and may not offer enough information for buying and selling properties. 
Related: How Real Estate Can Help You Retire In 3 Years
You can learn and try buildium for yourself here: https://www.buildium.com/
#3 PropertyRadar
Property radar is a great property analysis software for real estate agents wanting to increase their marketing efforts. Using public records you can easily use this software to connect with homeowners.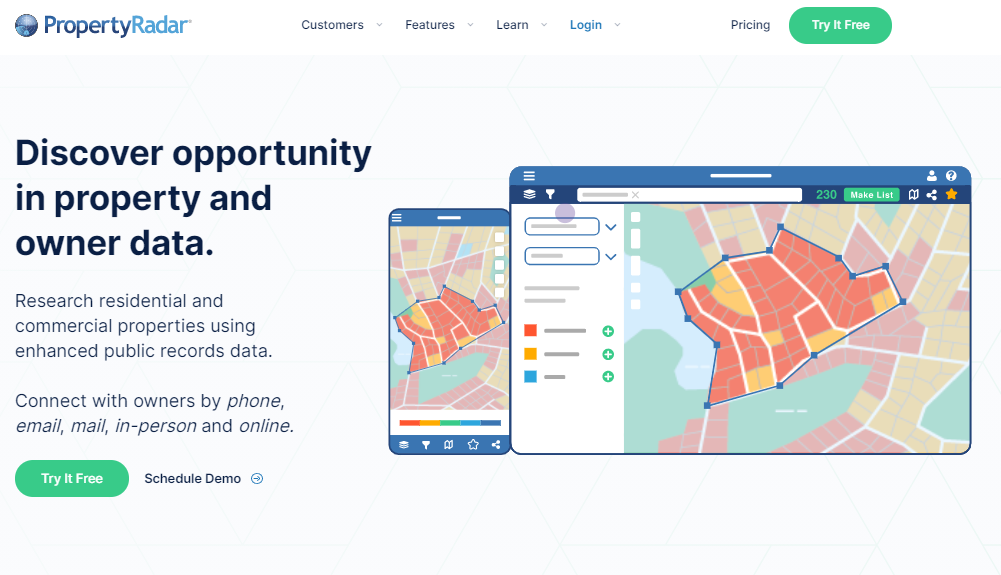 This property analysis makes it easy to research properties and homeowners using public records, giving you access to one-of-a-kind real estate data for real estate investing, realtors, or research.
Pros Of Propertyradar
Easily Connect With Homeowners: This software pulls accurate and current information on properties and homeowners of all types
Quickly Find Off-Market Deals: If you are working with investors, or wanting to find some motivated clients, you can use this software to research past owners and histories of properties to find motivated sellers.
Real-Time Property Analysis: PropertyRadar features quick and accurate property analysis and owner data via public records in real-time, so no need to worry about having old or bad data. You can search for properties by location, value, loans, vacancy, and more.
Cons Of PropertyRadar
Limited Analysis Based On Plan: One major downside of this property software is the limited use based on plans. Lots of features are locked out if you don't have the biggest and fullest plan.
Not User Friendly: While comprehensive, this software is not user friendly and has a sharp learning curve to navigate.
Expensive: PropertyRadar offers limited use for its lowest-tier plans, which can be cumbersome for those looking to do fast analyses. Many users complain that upgrades are required to use the software to its fullest ability.
For real estate agents looking for property software to connect them with new leads to grow their agency, PropertyRadar may be the perfect solution. You can easily find and connect with homeowners and identify those that may be interested in buying or selling. To get the most of the software you will have to upgrade and spend some time learning how to use it to its full ability. You can learn more about property radar here. https://www.propertyradar.com/
#2 Mashvisor
Mashvisor is a favorite among real estate investors. It can easily run an analysis for properties all over the country. You can filter by the state, city, neighborhood, or even a specific zip code of your choice. Additionally, this property analysis software also has a heatmap analysis feature, which can show you the hottest areas in your local market.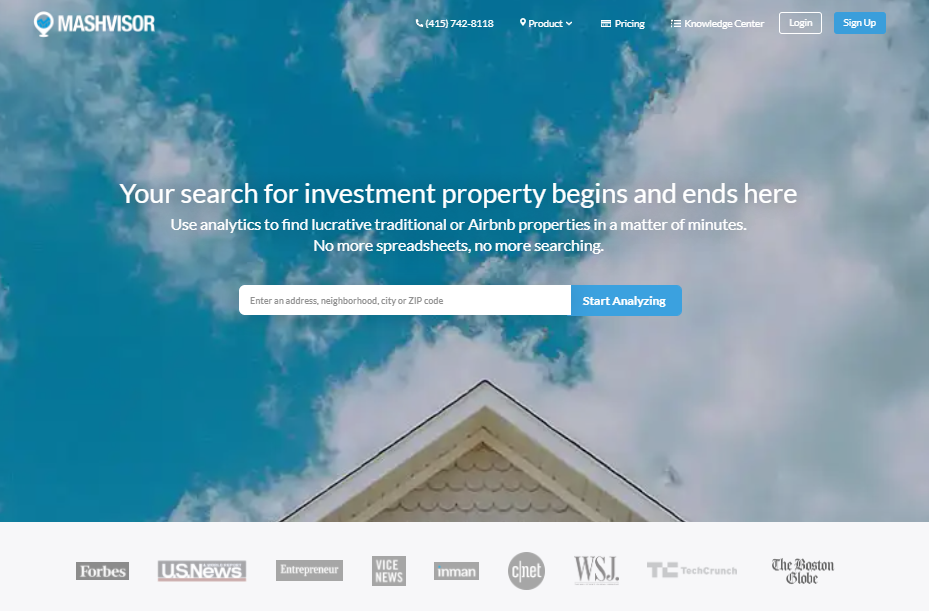 Pros of Mashvisor
Seamless Analytics: For those that hate spreadsheets, Mashvisor makes it easy to find analytical data on properties.
Investment Projection: Not sure what markets or what type of real estate investments you want to do next? Mashvisor makes it easy to find the right properties to make the most of your investments.
Easy Search: Easily search properties in any city, zip code, and filter by type. Get a quick and fast understanding of the different real estate markets. They offer heat maps to show you top-performing areas.
Cons Of Mashvisor
A remote analysis is limited: While Mashvisor is a great way to see prospective real estate properties, a remote analysis may over or under predict the market and demand. This can lead to big shortcomings if you don't plan to have an in-person evaluation of a property.
Incorrect Projections: Markets change quickly, and hotter real estate markets can see properties quickly come and go and change in price in a manner of days. The estimates Mashvisor gives may have blind spots, and be off course from how the market actually performs. Always check, and recheck the math and projections before investing in a property.
Made With Buy-And-Hold Properties In Mind. Like most of the property analysis software on the list, it has real estate investors in mind. While it can run and give projections on real estate markets across the country, the types of projections and analysis benefit primarily buy and hold investors. House flippers and landlords may not find the predictions as useful or accurate.
Mashadvisor makes it easy and seamless to look at properties that fit the bill of what you need. While mash advisor was primarily made with real estate investors in mind some real estate agents may find the property tools useful. You can learn more about Mashvisor here: https://www.mashvisor.com/
#1 Zilculator
If you are looking for the best property analysis software for real estate agents, look no further than Zilculator. This property analysis software is perfect for home buyers, agents, investors, and more!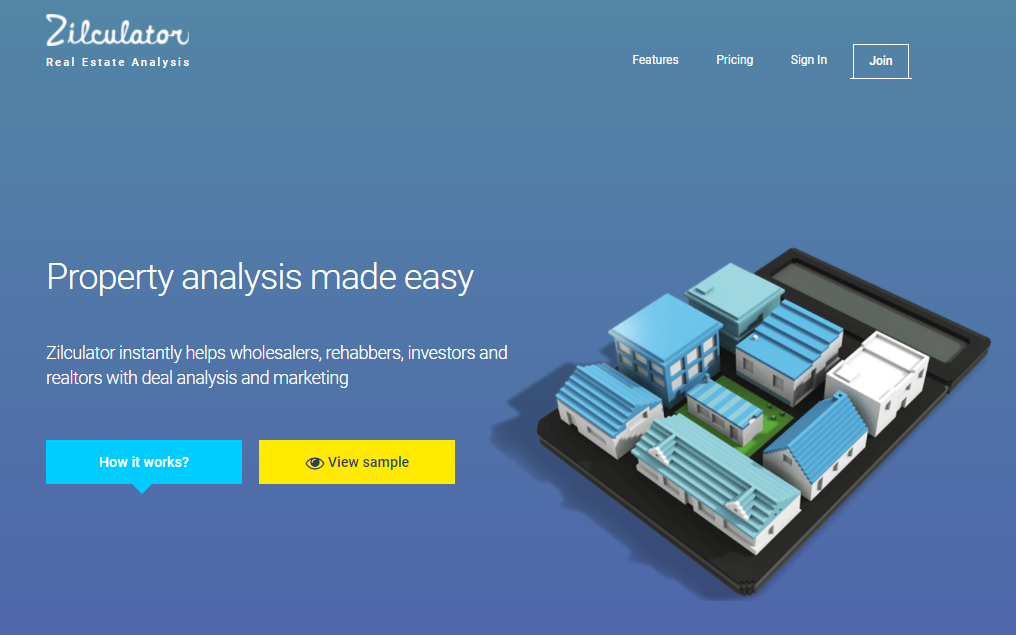 Easily list properties, ask about other properties you search for, compare properties, and build custom reports. You can even help your buyers (investors) by making them profiles to access and search homes that fit their parameters.
Pros Of Zilculator
User-Friendly Forms: From homebuyers to investors Zilculator offers a user-friendly design that anyone can use. Its simple design is easy to navigate and learn.
Easily Update and Manage Listings: You can easily add your own property photos, or pull from MLS, Zillow, and google street view. They also work with Zillow Zestimate to provide sales and rental prices for properties.
Search and Compare Properties: This property software easily runs and pulls comparable sales and properties, and even offers the ability to compare two properties against one another. Making it perfect for knowing the market value for properties and the best options for your clients.
Cons Of Zilculator
Mobile: One of the only features that Zilculator lacks is a mobile app option for their clients. The currently supported option is to run Zilculator in a browser on your phone. As they are constantly adding new features, it won't be long until a real mobile app is up and running.
Price: With the full robust system that they offer, the price is a bit higher than some on the list for the Premium membership, but in my opinion is well worth it. There is also a Free subscription with basic features, so users can upgrade to use the advanced features once they need them.
Zilculator is ranked our #1 Property analysis tool for real estate agents, and it's easy to see why. It is easy to use software that makes searching, finding, and comparing properties fast and easy.
Users rave about how it makes investing and working with clients easy as they can show them side by side comparisons for properties easily. They even offer a free limited account so you can test out the property yourself! You can try out Zilculator for free here: https://www.zilculator.com