5 Must-Have Real Estate Lead Generation Software For Realtors
Realtors have to do it all, from buying, selling, marketing, and finding their next lead. While many realtors know how to buy or sell a home, finding their next client to work with is often like finding a needle in the haystack.
Helping someone buy or sell their home is the best feeling as a Realtor. Realtors, while being well versed in real estate, may not know how to find their next great client! Thankfully there are thousands of real estate buyer softwares that can help make it easier to find your next client!
We pulled the 5 Must-Have Real Estate lead generation Software For Realtors!
#5 Bold Leads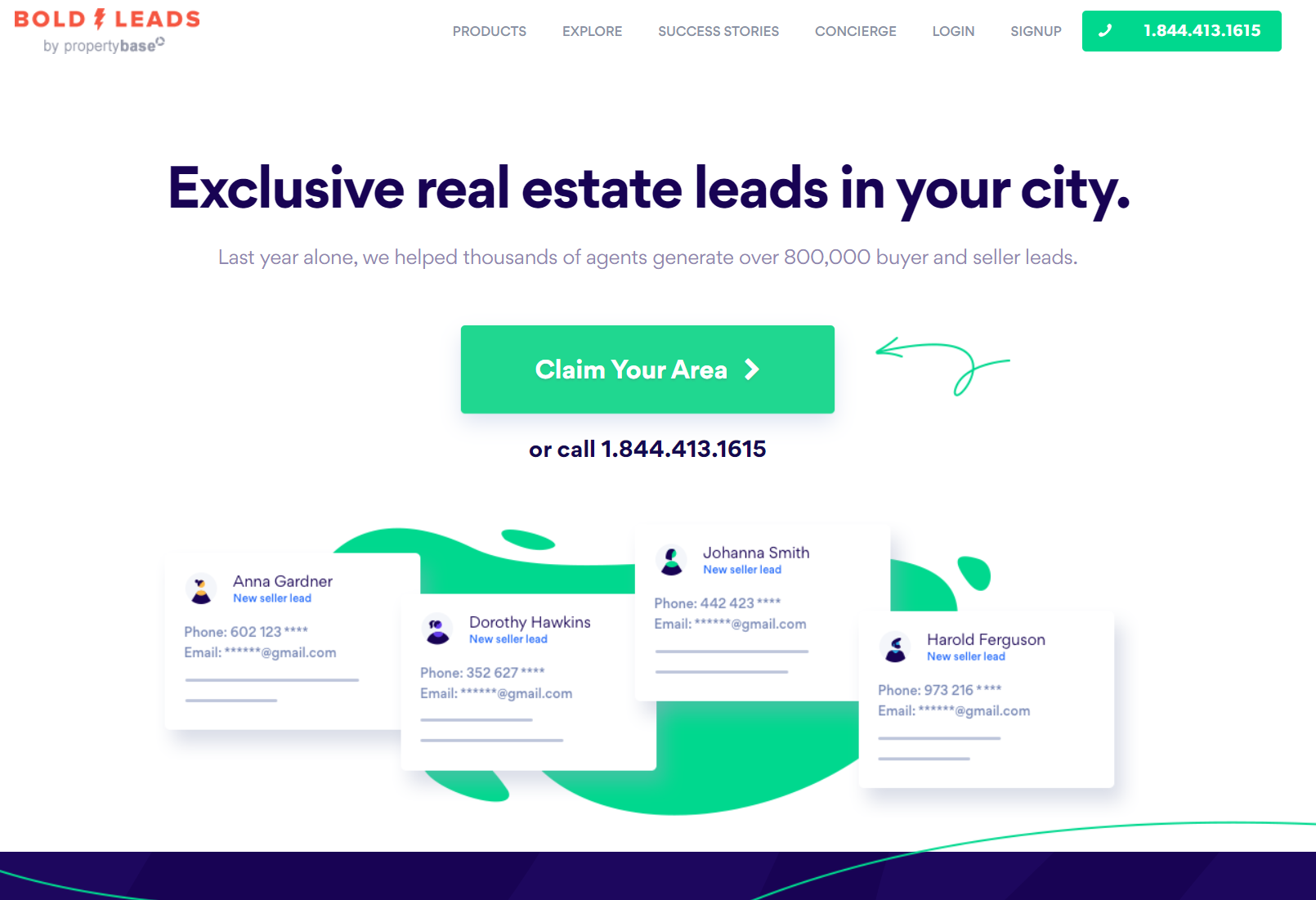 Bold Leads is an advertising and lead generation software Realtors can use to grow their business. Perfect small real estate agencies or large teams it makes it easy to build advertising pipelines to drive qualified leads to your business. From sales pipelines to CRM bold leads has it all.
How it Works: Bold Leads is a one stop shop for building and tracking your leads and current deals. It offers real time leads within a specific ZIP code. Additionally, It provides landing pages, a robust CRM and powerful templates to track and convert your leads.
Special Features: Never forget an appointment again with bold leads, custom reminders, and automations. You can also find easy analytics for your marketing campaigns, email, web, or more with its open and engagement rates!
Price: Bold Leads is one of the most expensive options on our list. Pricing can start from $399-$899 depending on how robust of a program you need.
#4 Chime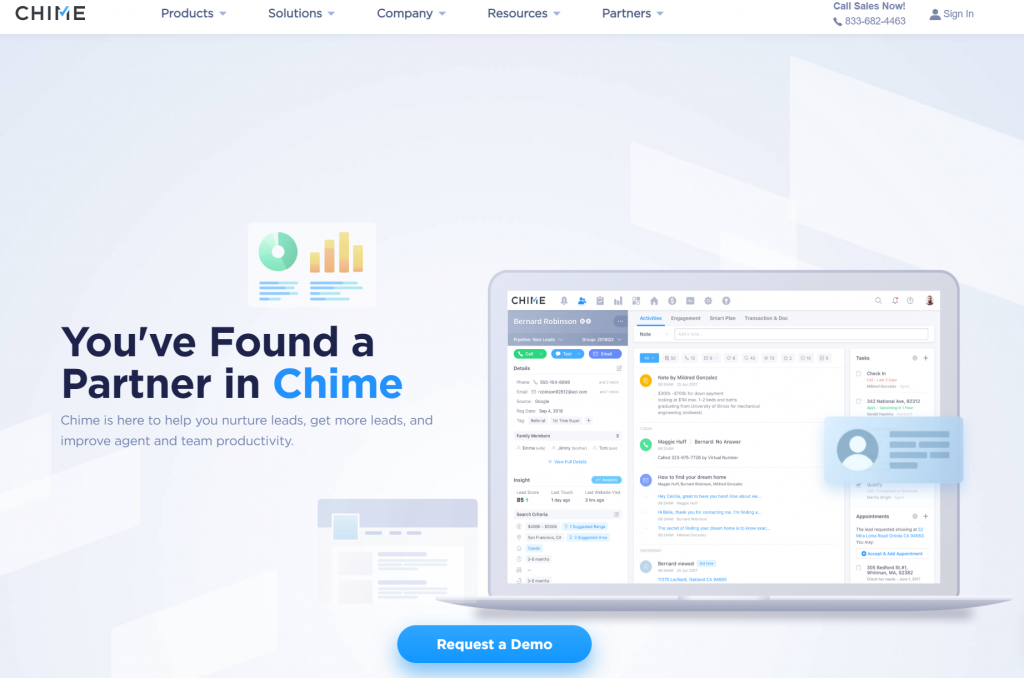 Chime is a double whammy of CRM and lead generation for real estate. It's multi-channel real estate lead generation attracts potential leads to you with its social media targeting, and lead funnels. Chime takes the frustration of running or tracking leads and makes it as simple as a follow up!
How it Works: Chime offers an optimized lead capture, which combines social targeting, and ideal real estate market metrics to deliver leads to your site and get you in contact with them! They also offer retargeting, automation, and advertising making is easy to get your agency in front of the right people!
Special Features: Chime offers a wealth of third-party integrations and the ability to auto-import leads from other providers such as Zillow and Realtor.com, and its lead scoring feature evaluates the credibility of potential contacts on multiple metrics. Chime is designed for real estate lead generation, and includes a power dialer, lead capture, and other top tier features.
Price: Chime is a paid real estate lead generation software. With so many features comes a pretty hefty price tag which will be a big turnoff for any small agencies.
#3 Offrs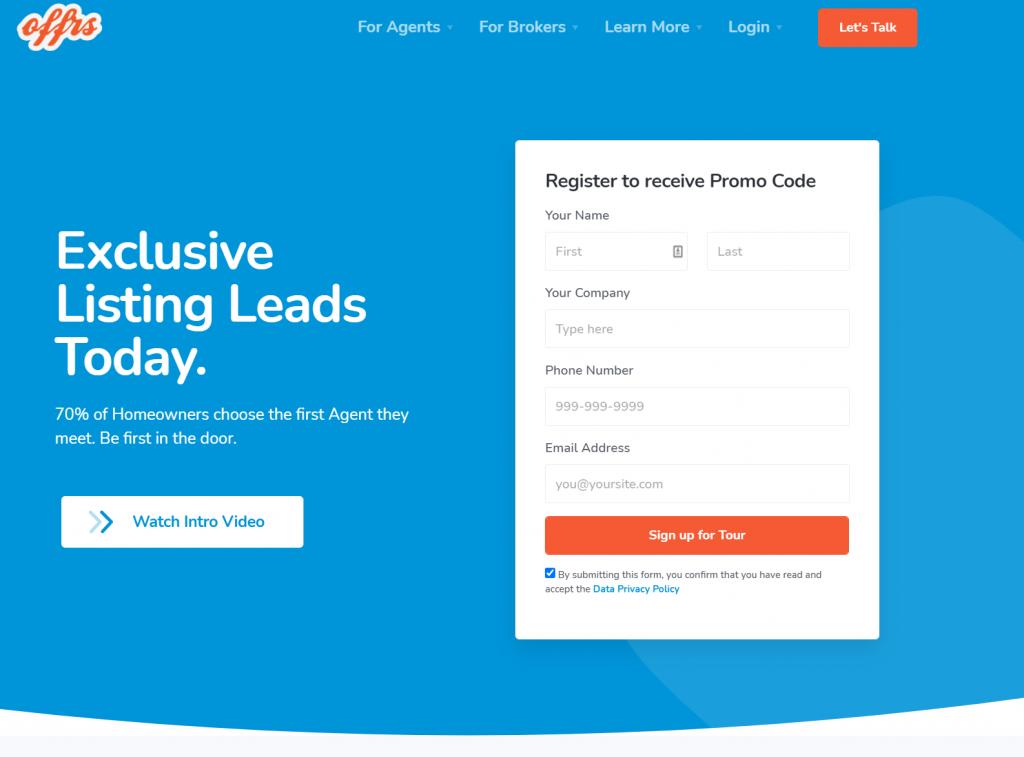 Offrs  is an exclusive listing lead company that helps agents be the first a prospective buyer or seller meets. Offrs unique real estate lead generation software uses predictive analysis to guide potential leads to agents.
What it is: A combination of analysis, data, and statics, Offrs to connect real estate agents with motivated property sellers, including expired listings, and those for sale by owner.
How it Works: Using a predictive algorithm that analyzes over 200 homeowner data points, it identifies properties that are likely to go on sale in the coming year. Its territory-based land search comes with an interactive map and simple ZIP code-based system for creating custom territories, and its automated marketing programs (digital and traditional) to get your service out there first.
Special Features: Offrs provides For Sale By Owner leads that have a high likelihood of hiring an agent, as well as expired listing leads.
Price: Offrs has a flexible and affordable pricing structure, with per-property and per-month pricing being the norm but with customized quotes available. So it is more flexible than other offers and plans cna can be used as much or as little as you need.
#2 Propertybase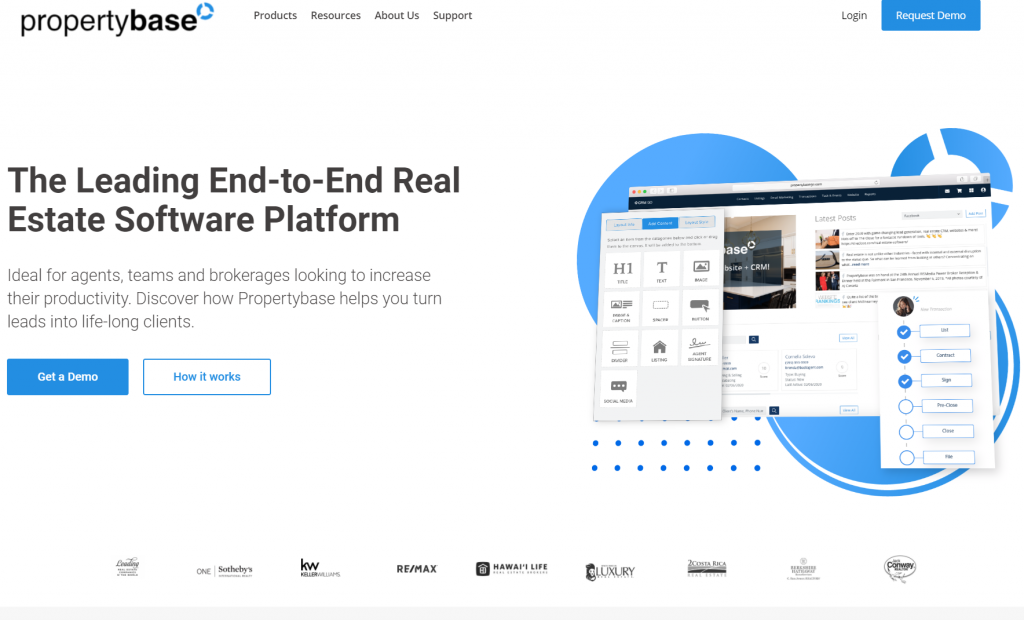 Propertybase is one of the most comprehensive tools on our list. Property base does many services, such as CRM, back office, lead generation, marketing and more.With it's customer first lead generation they make it easy for you to be the first one that sellers or buyers turn to with timely leads.
What it is: Propertybase knows the power of a hot lead. That is why they go to where your leads are online and make sure they covert into your pipeline the moment they show interest. With its targeted marketing programs it is easy to qualify and build a pipeline of leads for your real estate services!
How it Works: Built on the same back-end as Salesforce, so it offers the high-end services and automations to help you capture leads and convert them the moment they show interest. It combines lead scoring, and auctions for a smooth close.
Special Features: Propertybase provides website building, marketing automation, CRM and lead capture, and management tools, including lead scoring. For easy integration, it will sync data from Google and Office 365, and provides easy access to performance forecast data and real-time reporting on subjects for content or your own use.
Price: Pricing is by custom quote but is estimated to average from $89 to $99 monthly per user.
#1 Zilculator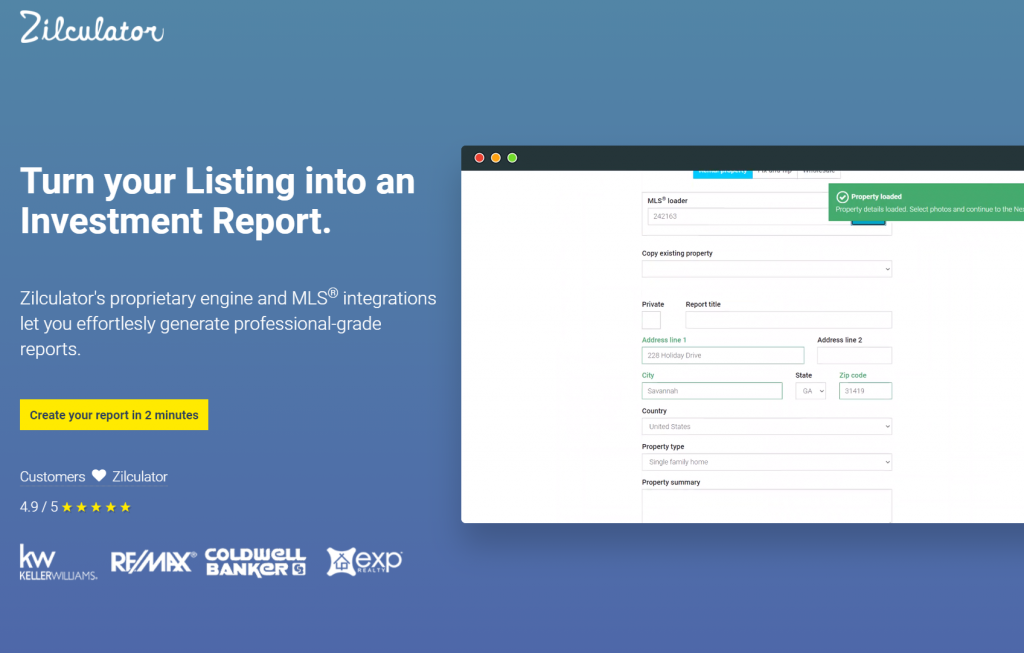 Zilculator is the top pick for anyone looking to generate real estate investor leads. While known in the real estate community for its leading real estate analysis, Zilculator is a great way to generate qualified investor leads to your agency.
What it is: As the is the leading real estate investment software, Zilculator evaluates properties and makes it easy for you to create a comprehensive analysis on any property.
How it Works: There are lead generation forms included in the reports, so the investors can fill in their contact details to reach out to you. There's also a BETA version of a new Lead generation plugin. Reach out to Zilculator's support if you would like to sign up for the private beta.
Special Features: You can easily create your own investment property inventory pages, and post deals to the Off-market property marketplace. They load recent sales comps from MLS and they also work with Rentometer to provide rental prices and rental comps for properties. You can even help your buyers (investors) by making them profiles to access and search homes that fit their parameters.
Price: Zilculator is the most affordable on our list, with the Premium plan currently at $29/mo.